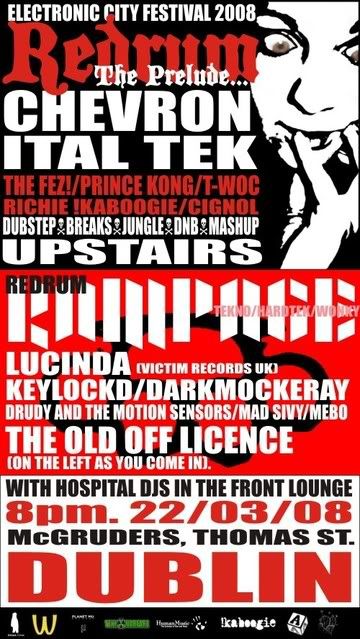 Too much happening to keep up with in Dub Land this weekend.

Ursus Crew are pulling out all the stops tonight at McGruders with the Dublin debut of Brighton's Ital Tek whose 'Deep Pools' EP has been causing waves lately.



Have a listen HERE

Other highlights for me tonight would be T-Woc spinning the roots reggae, and a live set from music maker Cignol (below) whose stuff I would recommend for anyone with an interest in harmonic and melodic electronics. Hell of a DJ too, hopefully he'll get back into that soon, as I have good memories of DJing with him back in the 90s. Check his stuff HERE.




However, As I suffer from a phobia of any music with

'core'

in the title, I cant really comment on most of the other acts, as I dont have a clue about them, but I suspect light shows and special k....




Also happening tonight is Overdubz with the Irish dubsteppers and junglists taking over the dodgy upstairs in the Legal Eagle. Should be worth a trip down there though as these lads are sure to rip it up. Me? Could be the couch for the evening. Lazy bastid. Get out there and enjoy the festivities yerselves...