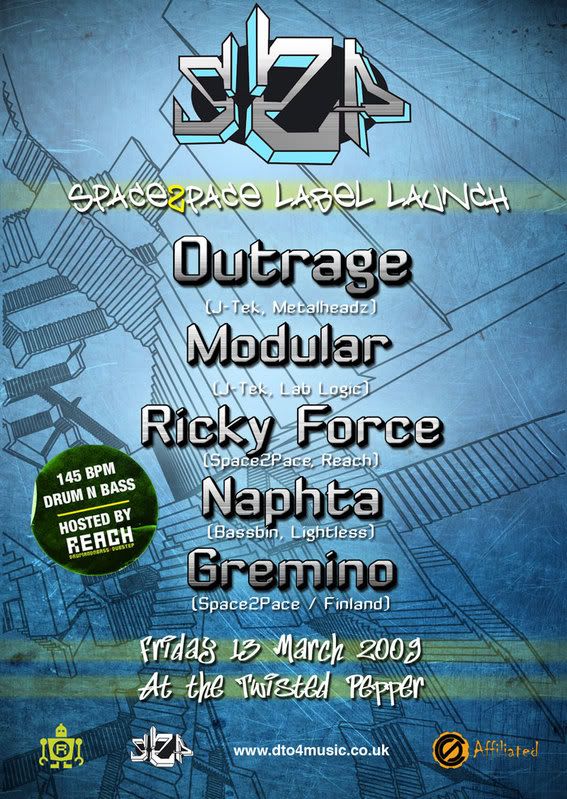 If you managed to miss the launch last friday of the Space 2 Pace label, fear not. Ricky has uploaded all the sets from the night along with tracklists for most of them...I'll update as more comes through. Click the DJs names to download.

Colz
(Garage/Grime/Dubstep)

Hard House Banton - Sirens
Kode 9 v LD - Bad
Benny Ill & Hatcha - Highland Spring
Darqwan - As We Enter
Toasty - On Something
Toasty - Knowledge
Darqwan - Warrior Stance
Loefah - Root
Sully - Feel Me
TRG - Time Is Now
Horsepower Productions - Vigilante
Benga & Skream - The Judgement
2562 - Embrace
Naphta
(Hardcore/Jungle)

The Saucer Crew - Do they Exist?
2 Bad Mice - Tribal Revival
A Guy Called Gerald - Nazinji-Zaka
Hyper-On Experience - Disturbance
Bay B Kane - Junglist Warrior
4 Hero - Students of the Future
DJ Hype - I Can't Understand It
Poosie + Cru-L-T - Hear Me Hear Me
Kev Bird - Kano
Mole The Dipper - Immoral Depth
Wax Doctor + Jack Smooth - Unfriendly
Acen - Trip 2 The Moon - The Darkside
RickyForce
(J-Tek)
RickyForce - Cool it
Nolige - Funked Out
Modular - Buck stops here
Skitty + Nolige - Night People
DJ Trax - What it is
Outrage - Acid Drop
Outrage - Eutopia
Secret Society - Street Music
RickyForce - Underground
Outrage + Modular
(J-Tek)
*no tracklist yet
MC
Lariman
on duty at points throughout.