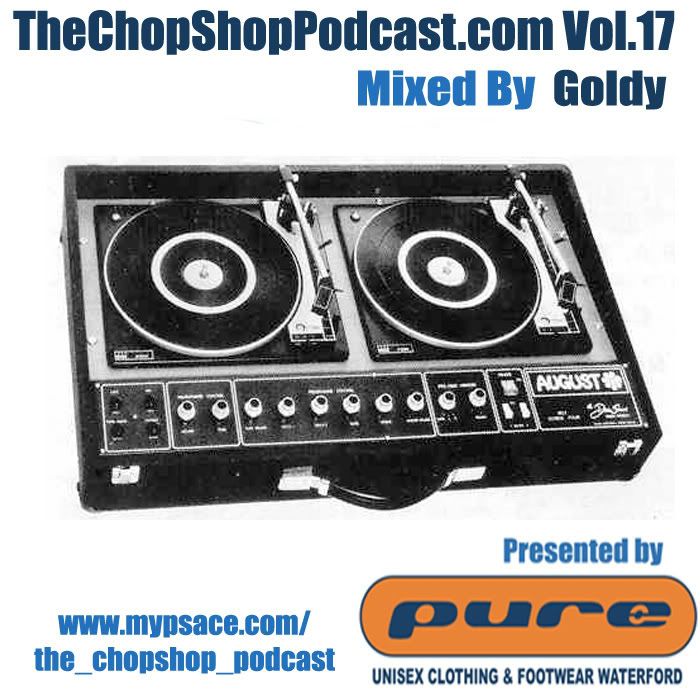 Would

YOU

like to grab a grand?

Maybe, like me, you need a new mixer, or maybe the guttering needs to be replaced. Either way, here's your chance courtesy of the latest podcast from the always quality Chop Shop.

Volume 17 comes courtesy of long-time DJ and one half of Ufeari, our own DJ Goldy. The mix has no tracklist, so if you can figure out every track used, email your tracklist to

thechopshoppodcast@gmail.com

and the euros are yours.





CLICK THE PIC

or right click and SAVE AS

In Goldy's own words:

"EH A MIX IN THE VEIN OF STENSKI MEETS JAH SHAKA IN AN ECHO CHAMBER HAVING A SPLIFF WITH TOM WAITS WHILST MULLING OVER "IS HEAVYMETAL COOL?" ………MEANWHILE THE "YA JUST BEEN SILLY CROWD" ASKED WHAT MUPPET ALLOWED HIM ON THE DECKS.THE DOCTOR IN CHARGE OF CHECKING DENTURES REPORTED IT WAS CREATED ON TWO TURNTABLES AND THEN SOMETHING HAPPENED WHEN IT WAS BEEN TRANSPORTED TO HOTH SOMEHOW THE TAPE JUST GOT MANGLED.
RUMORED TO BE SUB TITLED THE "GRAB A GRAND" MIX IF YA CAN NAME ALL THE TRACKS, HILARY CLINTON SAID "I'M A PUPPET".
IN TRUTH NO THOUGHT WHATSOEVER WENT INTO IT,ALL TRACKS FEATURED JUST HAPPENED TO BE AT HAND WHEN I WAS ASKED TO DO IT…….THE SKITS,INTERLUDES AND DUBS ARE JUST BASED ON WHAT I WAS WATCHING OR THINKING LAST WEEK.

"ALL GREAT MIXTAPES HAVE TO END WITH A TOM WAITS SONG" - SOME FRUITY F*CKER ON YOUTUBE BUT HE HAS A POINT."